Cardillo Piccolino Collection
Felice Cardillo Piccolino is an ophthalmologist who specializes in retinal diseases
Can you describe your collection?
It is a small collection, which currently includes about a hundred works, and which is meant to fit a home. So, most of the works are medium or small in size. The first ones I bought were photographs, but for the most part they are paintings, with a preference for the figurative.
How long have you been collecting?
Consciously and coherently since 1993. That was the year of a remarkable Venice Biennale curated by Achille Bonito Oliva, and there I met, for the first time, the international leading figures of contemporary art.
With whom do you share your passion?
I share my passion for art with my wife. The final decision for every acquisition must meet with her approval. Since we do not have an inheritance to draw on, especially after having put all our savings into a foundation, every major acquisition is difficult, often taking us at the limit of our resources. Sometimes to the point of being irresponsible, according to my wife.
Where are the works exhibited?
As I said, the collection is designed to be enjoyed in our home, and also in my professional workspaces. Since we don't have enough wall space to hang all the works, some are kept in storage. But every now and then some of them reappear, others are added and so, from one year to the next, there is usually a change in the display.
What artists are in the collection? Italians, foreigners, emerging, famous?
Our works of art are mostly by foreign artists. Our attention is focused on emerging or mid-career artists who are represented by galleries, and not only Italian. We started collecting in the 1990s, after the historical exhibition "Post-Human" by Jeffrey Deitch. One of these artists, the most important in my opinion, Matthew Barney, has really fascinated us, and for several years we have periodically bought about ten his works from the Barbara Gladstone Gallery. Here we have also bought works by Richard Prince, Thomas Hirshhorn, Catherine Opie, and Paloma Varga Weitz. Later we became more interested in painting, especially figurative painting, following the trend of the international art of the time. Among the so-called established artists, we have works by Philippe Taaffe, Wilhelm Sasnal, Andro Wequa, Jakub Julian Ziolkowski, Serban Savu, Alex Katz, Jules de Balincourt, George Shaw, Enrique Martinez Celaya, Elizabeth Magill, Anthon Henning, Wangechi Mutu, Chatherine Bradford, and Jonas Burgert.
We follow emerging international painting very closely, hoping to discover new talent, as many collectors do. This happened with the Romanian artist Adrian Ghenie, whose work we bought in 2007, long before he became one of the top international artists. And more recently with Claire Tabouret and Nina Chanel Abney. In recent years there is a new multi-ethnic generation of figurative artists, who deal with migration and diaspora in their works. Our most recent acquisitions go in this direction, with works by Tajh Rust, Ramiro Gomez, Awol Erizku, TM Davy, and Alexi Marshall.
Among the Italian artists, we have a work by Vezzoli from the Caligula series, bought at Gagosian. Also, we have works by Gian Marco Montesano, Gabriele De Santis, Nicola Samorì, and Silvia Argiolas.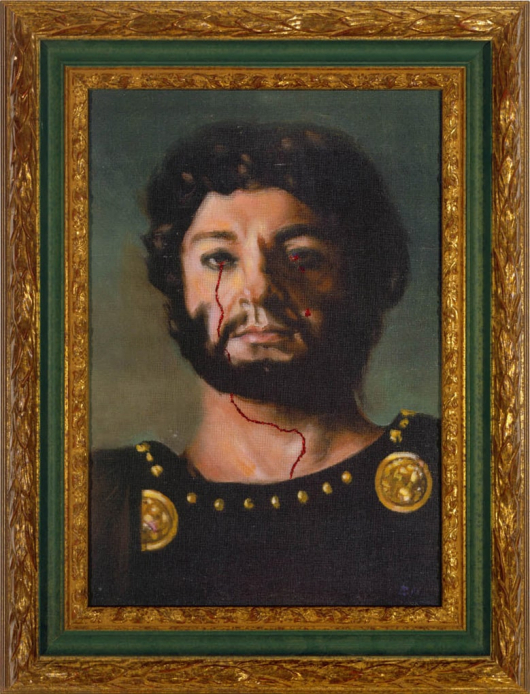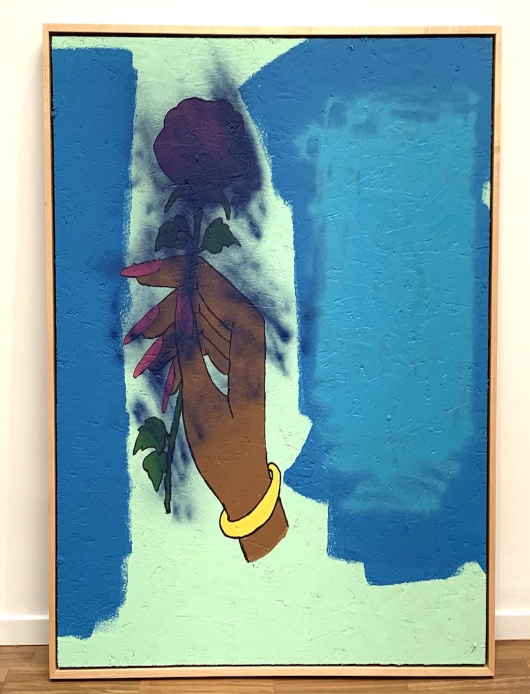 Can you tell us any stories about an acquisition you remember with pleasure?
My wife and I can't forget the purchase of the work of art that gave an international twist to our passion: Matthew Barney's Drawing Restraint 7, which impressed us at the 1993 Biennale and a few months later, on a trip to New York, we found it at Barbara Gladstone's. It was the last of the edition and cost 15,000 dollars, far too much for a university researcher's budget. We reserved it without much conviction and meditated on it all the way back to Italy, realizing that we couldn't afford it. The next night we called Barbara to confirm it.
Another pleasant memory is the purchase of another Matthew Barney work. We were invited to the European presentation of the film Cremaster 2 at the Pitti Palace in Florence. There Francesco Bonami was interviewing Barney. We were Barbara Gladstone's personal guests at the dinner at Della Gherardesca's house (not really our place) with Barney serving with us at the buffet. We had the privilege of a first choice among the works based on Cremaster 2 and we chose The Drone's Cell where Barney, disguised as Gilmore, is in white overalls with a gun in his hand lying on the car seat. We trusted Bonami with our choice and he was pleased. We later learned that the same work (edition of 6) had been acquired by MOCA in Chicago where Bonami was Senior Curator.
In my memory, Matthew Barney is somehow related to that of Gian Marco Montesano, our favorite artist before we opened up to the horizons of international art. We discovered him on the cover of Flash Art magazine (who strongly supported him) and then followed him for a long time, buying several of his works. We met him several times at his studio in Bologna and we saw a sneak peek of the paintings for his participation in Aperto '93 at the Venice Biennale. Years later by chance we found his works at the Annina Nosei Gallery in New York, where he had just finished an exhibition. In that famous gallery where Basquiat, Haring, and Koons had exhibited, Montesano somehow won us back. A painting with a little girl in a vintage bathing suit on the beach, with pastel colors on a black and white background, was among the most beautiful works by Montesano we had ever seen. But the work was big, and it seemed complicated to send it to Italy. We left the gallery with a polaroid picture of the painting. Several years later Annina Nosei attended Arte Fiera in Bologna and my wife and I went to her stand with that polaroid photo to remind her of our meeting in New York. The painting of the little girl was there, still packed. We didn't think much then about taking it home with us.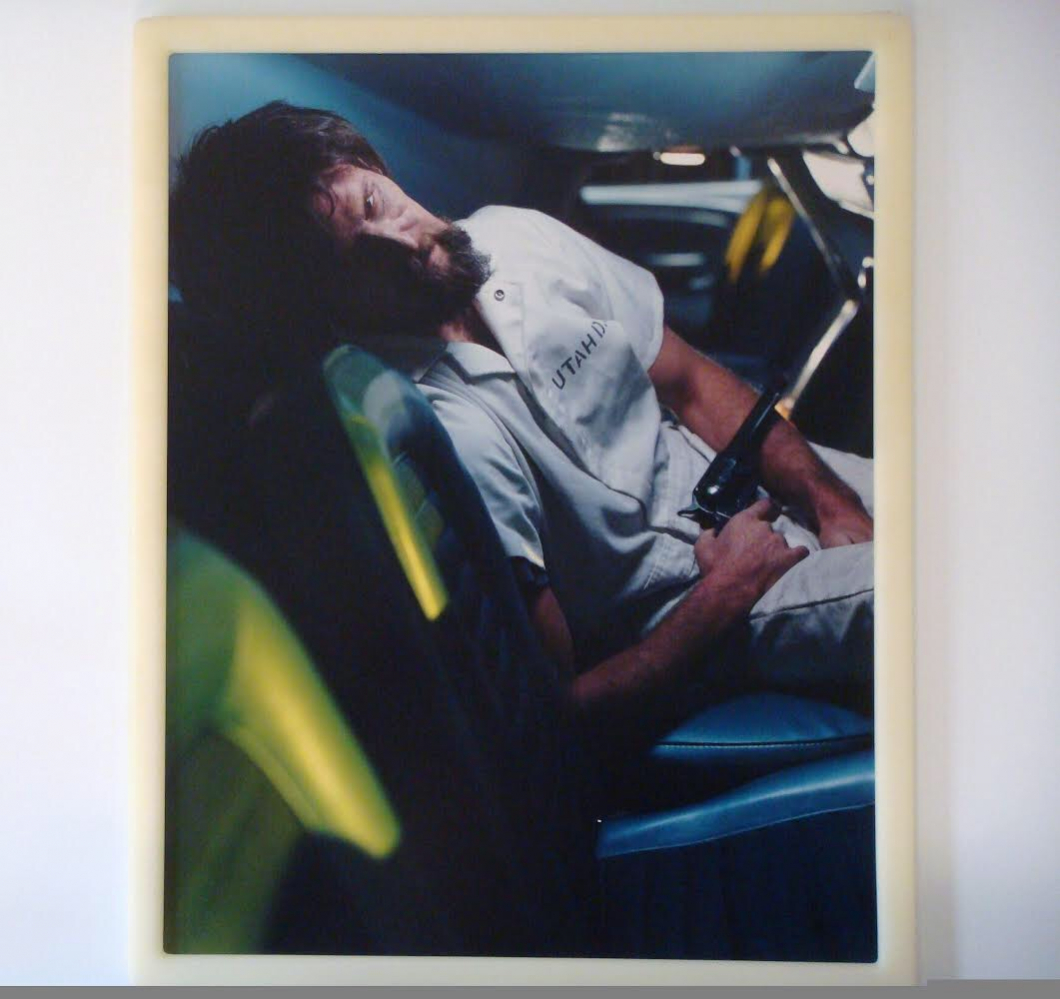 How important is it to meet artists?
Meeting the artist who has made works in your collection is always an exciting and culturally interesting experience. Especially if you combine it with a visit to the artist's studio. We recently happened to visit Jonas Burgert's studio on the occasion of one of our trips to Berlin at Blain Southern gallery's invitation. We were in a huge space, surrounded by monumental paintings crowded with dreamlike and mysterious figures, which we understood represented what for the artist is human existence.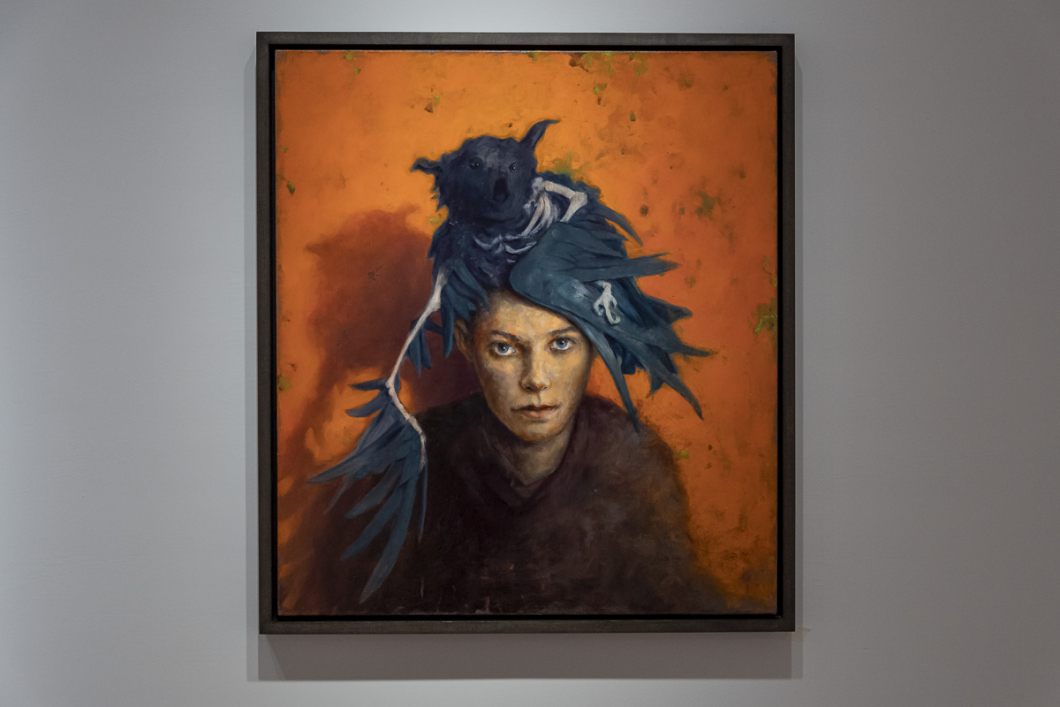 How was this passion developed? Why did you start collecting?
I think our passion for art began slowly, seeing exhibitions and meeting friends who were already collectors. But I can focus in my memory on a crucial moment for the beginning of a more conscious collecting. I was sharing a graduation session at the University of Genoa with a colleague who has an important family collection in contemporary art. Between one dissertation and another, we were talking about art. I asked him to give me the names of the international artists he considered particularly worthy of attention at the time. It was the list of artists from the Post-Human exhibition manifesto... including Matthew Barney.
The first acquisition, and the most recent one?
The first important one is Barney's work that I mentioned. The most recent is a small painting by the young American artist Keiran Brennan Hinton, who went to the Yale Graduate Program, which is known for churning out talented artists. The work was executed during an internship in Palermo, followed by an exhibition at Francesco Pantaleone Gallery.
The wish list for 2020?
I can only name one: I've always desired a work by Salvo. I'll look for it eventually at the next Arte Fiera.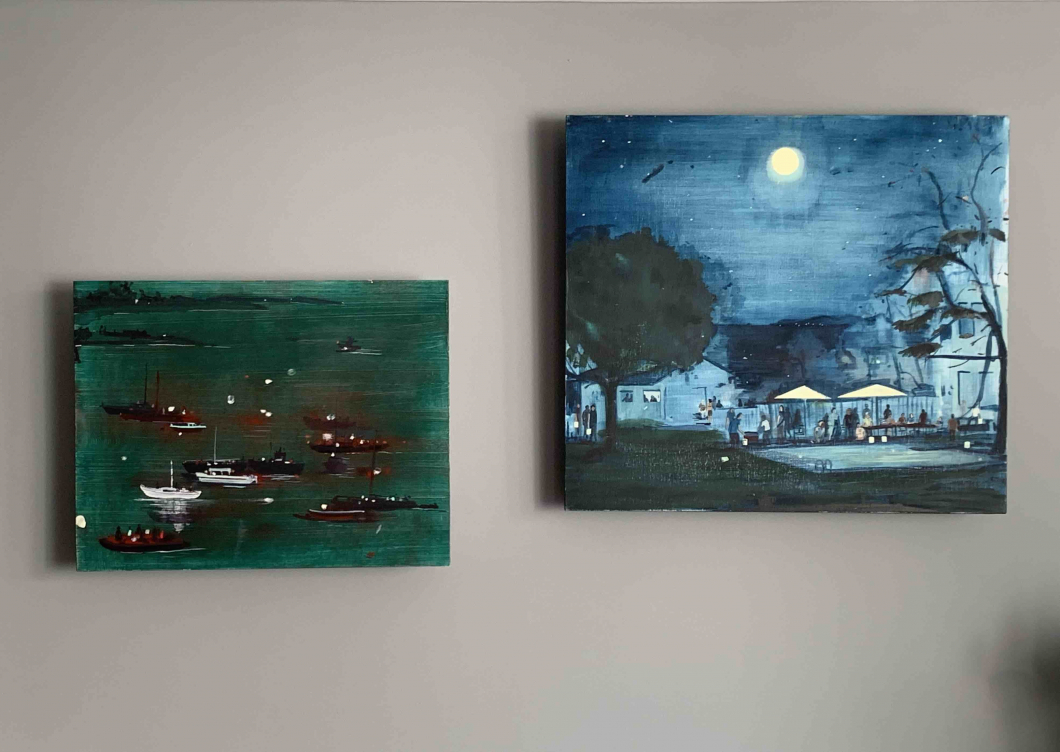 In Italy, which galleries do you follow? And which art fairs do you attend?
I follow the most important galleries focusing on figurative painting. I bought works from Monica De Cardenas, Studio Guenzani, Galleria del Capricorno, Brand New Gallery, Frutta, Monitor, Richter, Francesco Pantaleone. As for the fairs, we go almost every year to Frieze London, sometimes Art Basel and the Armory Show. In Italy, we always go to Artissima and Miart, less frequently Arte Fiera Bologna. Lately also Art Verona.
The role of social networks in your decision: a source of inspiration and/or information?
I think that social networks, and especially Instagram which uses the image as a vehicle of information, can be an extraordinary source of inspiration for those who follow and collect contemporary art. I used to look for information about artists and exhibitions on Flash Art and Art Forum, or by mail from the galleries I was in touch with. Now, in addition to the aforementioned media, Instagram helps me find out in real-time what is emerging and developing in the world of contemporary art. It is important to keep track of the social profiles of fairs. I also confess that I take into some consideration for my choices the appreciation (likes) received by images of works I post (@piccolinocollection).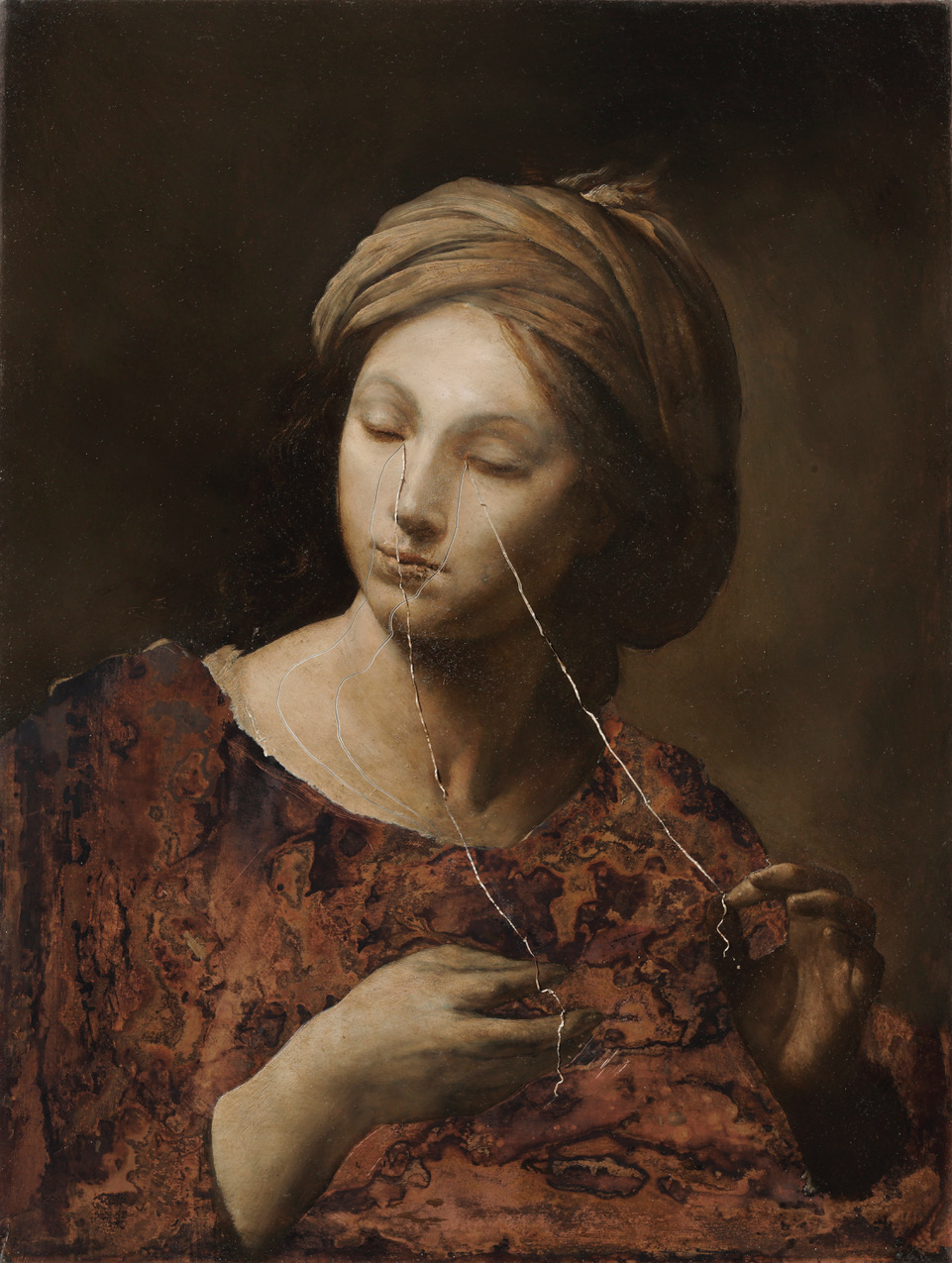 Have you ever loaned works from your collection? If so, on what occasion?
We have loaned several works for museum exhibitions and it has always been an exciting and rewarding experience. Among the loans we have made are Barney's work, Drawing Restraint 7 at MART in Rovereto, a work by Wilhelm Sasnal at Hayward in London and at Castello di Rivoli. A work by Andro Wequa and one by Hernan Bas at a Scottish museum and a Portuguese one whose name I don't remember, a small diptych by Wangechi Mutu at the Guggenheim in Berlin, a work by de Balincourt at the MMFA in Montreal, and lastly a work by George Shaw at the Yale Museum of British Art.
The pros and cons regarding loans of the works of art?
Every request for the loan of one of our works by a museum was welcomed with pleasure, as a sign that our choice was the right one. In addition, the museum exhibition makes us enjoy the work even more when it comes back home. It is a real pleasure to take part in the opening of an exhibition where our work is on display.