15/06/2020 | Silvia Anna Barrilà
At Anselm Reyle's home
Since 2017 the German artist has lived in a house on the Spree designed by his wife Tanja Lincke. Inside are works by the artists he admires alongside design pieces he has made himself
When the German artist Anselm Reyle arrived in Berlin in the late 1990s, he moved to Kreuzberg, the famous multicultural neighborhood, where he started to work in a studio with Michel Majerus, John Bock, Berta Fischer, and Dieter Detzner. In these years he established himself on the international art scene with his brightly colored abstract paintings, made with industrial materials, neon, and found objects, in a constant meditation on Modernism and its meaning.
In 2008 after more than 20 years in Kreuzberg, at the height of his success, Reyle moved his studio to Treptow, adjacent to Kreuzberg, but part of the former East Germany. On the banks of the Spree River, he bought land that formerly belonged to the river police, where the border was patrolled, and Erich Honecker's boat was anchored. His architect wife Tanja Linckedesigned the home where they now live with their children, a rectangular concrete and glass parallelepiped on stilts, suspended over the water.
Inside the house, the artist installed some furniture he made himself. In his career, he has often turned to design, always referring to the modernist tradition and to his own works in an ironic tone. Like the sofa he bought on eBay, a 1980s relic made of eco-leather, which Reyle transformed using the typical color contrast of his works. Or the chairs with a camouflage motif, a fabric designed for his collaboration with Dior, which resulted in around 80 design pieces. The carpet relates to his famous "Foil Paintings", works made with aluminum sheets crumpled in Perspex display cases that have done well on the market.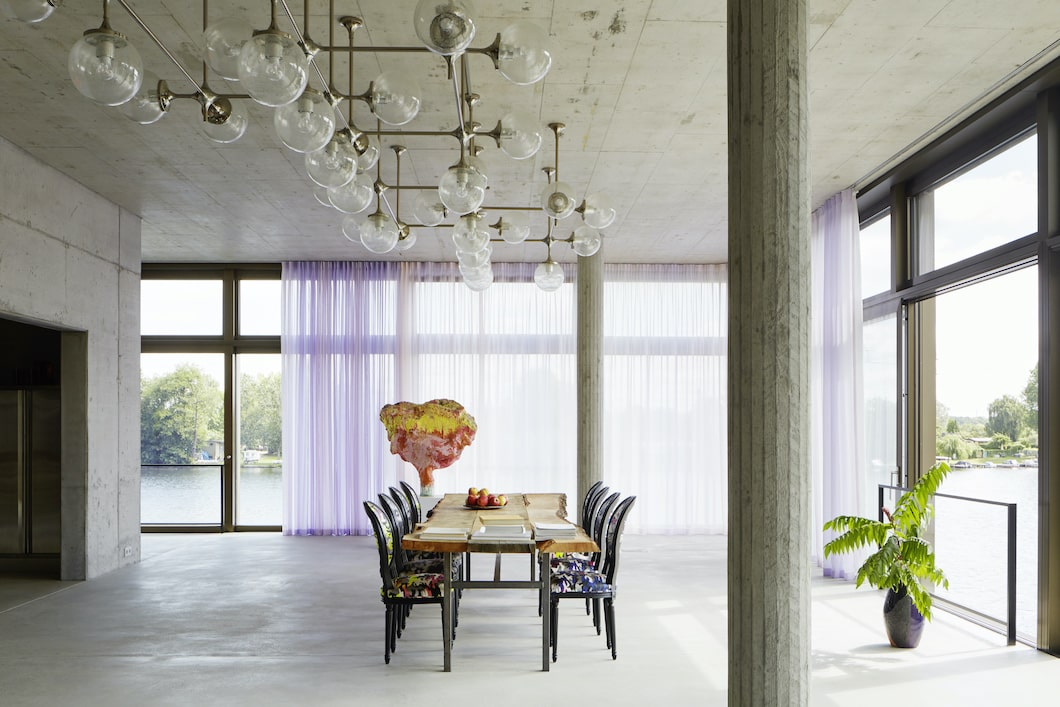 A special place in the house is the library. It is a place for his books and it also includes a large showcase, like those used for miniatures and souvenirs. Anselm Reyle arranged works from his art collection on the shelves alongside objects purchased at flea markets, so there is a mix of languages from which he draws inspiration.
For example, there are works by Thilo Heinzmann, Steven Parrino, and Hermann Goepfert from Gruppo Zero next to a drum pad bought at a Motorhead concert and a housepainter's color test card that looks like an abstract painting. There is a work by Don Van Vliet (also known as Captain Beefheart, his stage name as a musician) next to a ceramic work by a young Japanese artist he bought at the Takashi Murakami gallery, and an early ceramic work by Victor Vasarely. There are also works by Mel Ramos, Katja Strunz, Uwe Henneken, and Otto Freundlich, a Swiss modernist artist who has had a profound influence on Reyle.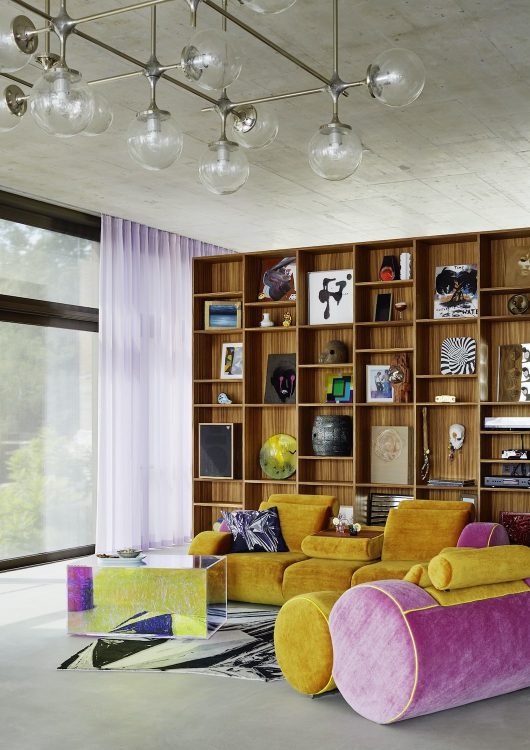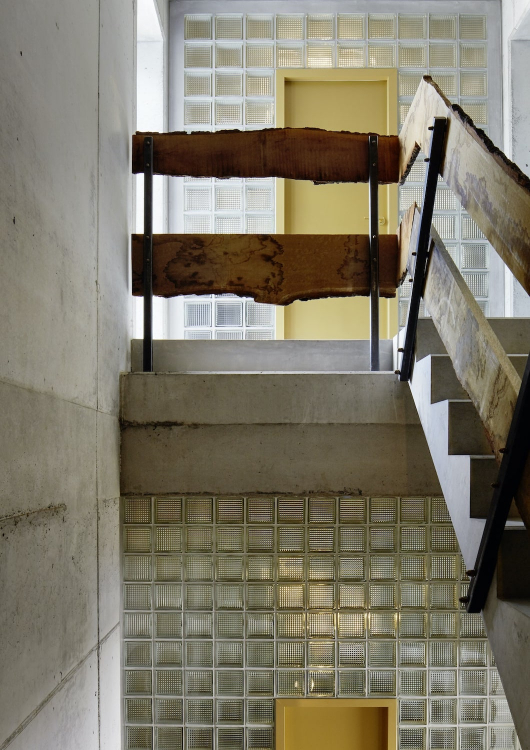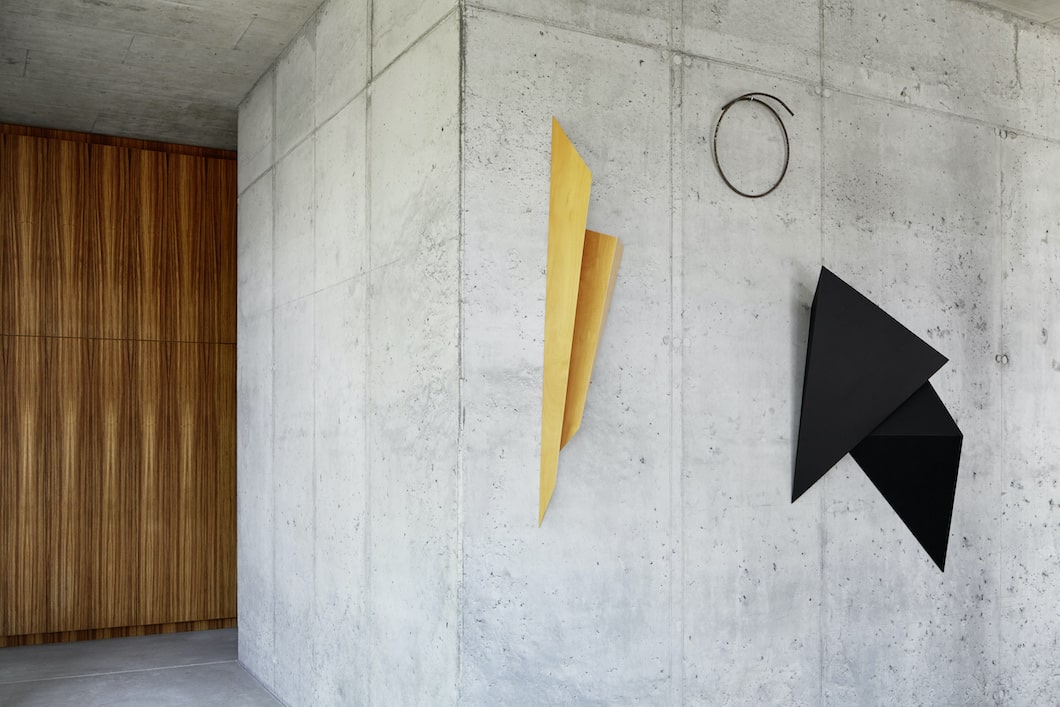 Other works of art in Anselm Reyle's collection are by artists he admires, like Peter Halley,who he exchanged works with, and Franz West, who he has collaborated with in the past. Then there is a table by Arman, that the French artist created for his friend Yves Klein in his signature blue. There is a work by Jim Lambie - another artist with whom Reyle exchanged works - from the "Doors" series, and a work by the Suicide Girls created in response to Richard Prince. Prince used an Instagram image by the Suicide Girls Collective and made it his own work of art that subsequently sold for $90,000. In response, the Suicide Girls reprinted the same image from their Instagram profile and sold them for $90 and donated the proceeds to charity. Reyle bought two of them. It is an emblematic story in the discourse on appropriation in contemporary art and on what can be defined as art today.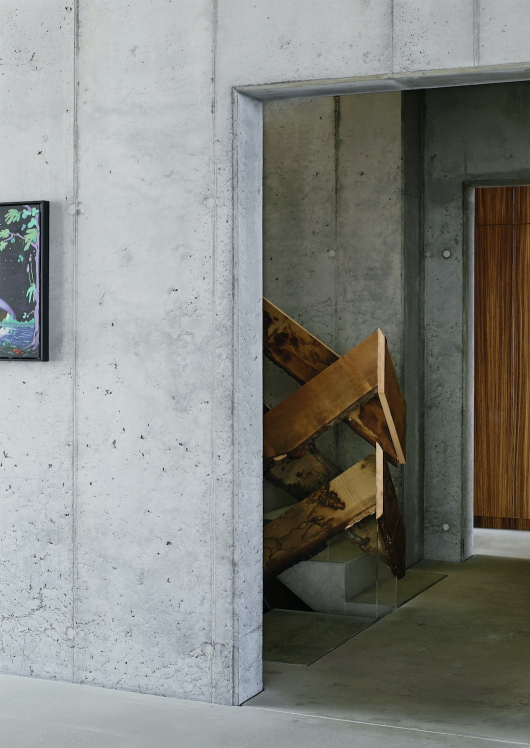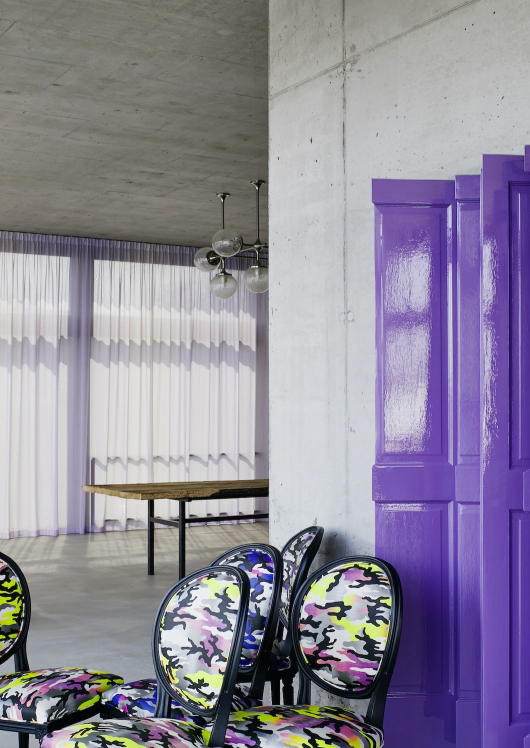 Anselm Reyle named the garden around the house "Ruinengarten," which means the garden of ruins since when the former headquarters of the river police was demolished because it could not be restored, the artist decided to keep a piece of one of the walls from the main hall. Today it stands out in the landscape as a sort of romantic ruin.
Two trees from the garden, which were cut down during the construction, were used to make household furniture, including the dining table, the beds for their children, and the handrails of the stairs. A glass tile wall from the 1960s, found in a nearby house, was used in Reyle's house to separate two rooms, allowing light to filter through. There is another building adjacent to the home the artist uses as his studio.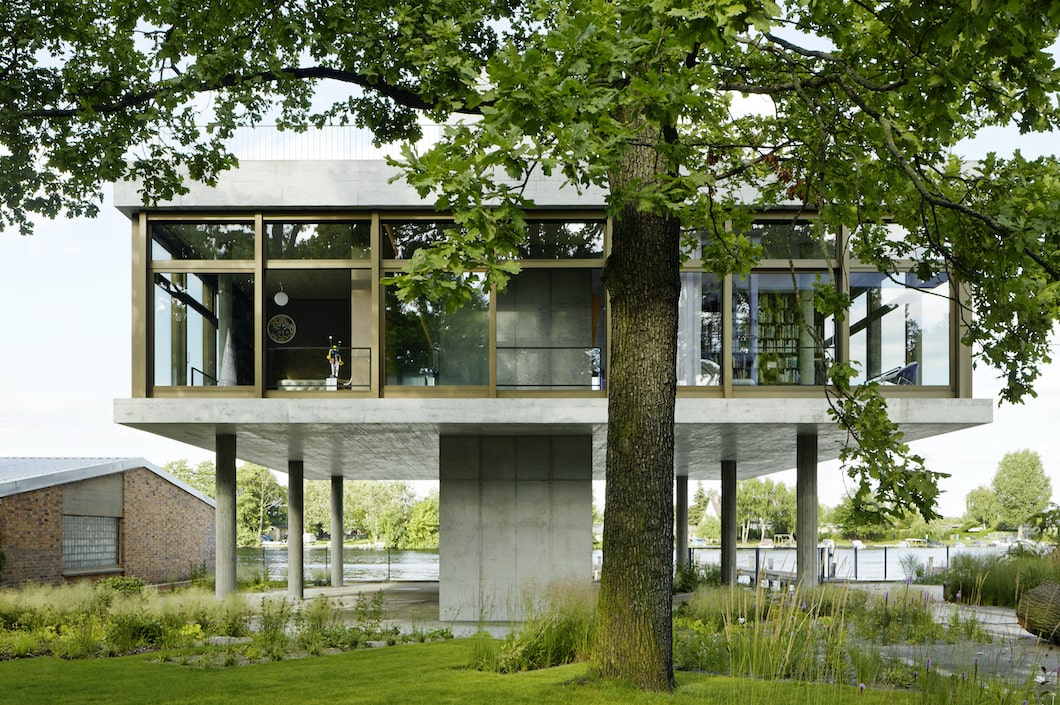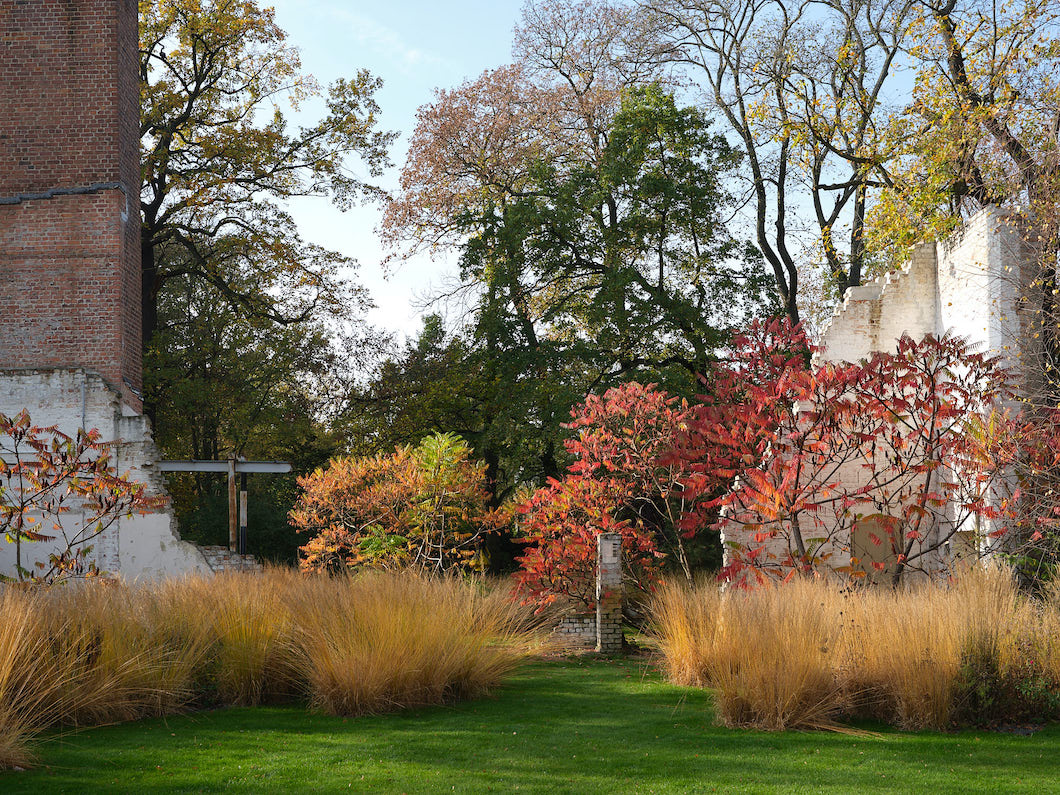 A few years ago Reyle started making large ceramic sculptures inspired by some vases from the 1970s he found at flea markets. "I was fascinated by their psychedelic colors" he explained, "and I began to study how they are made. They were produced for only about fifteen years, but on an industrial level in large quantities, so they were ubiquitous in everyone's homes, but then they disappeared. The effect on their surface is like a lava flow and happened by accident. It was very difficult to find someone today who could reproduce them in large sizes, as I wanted."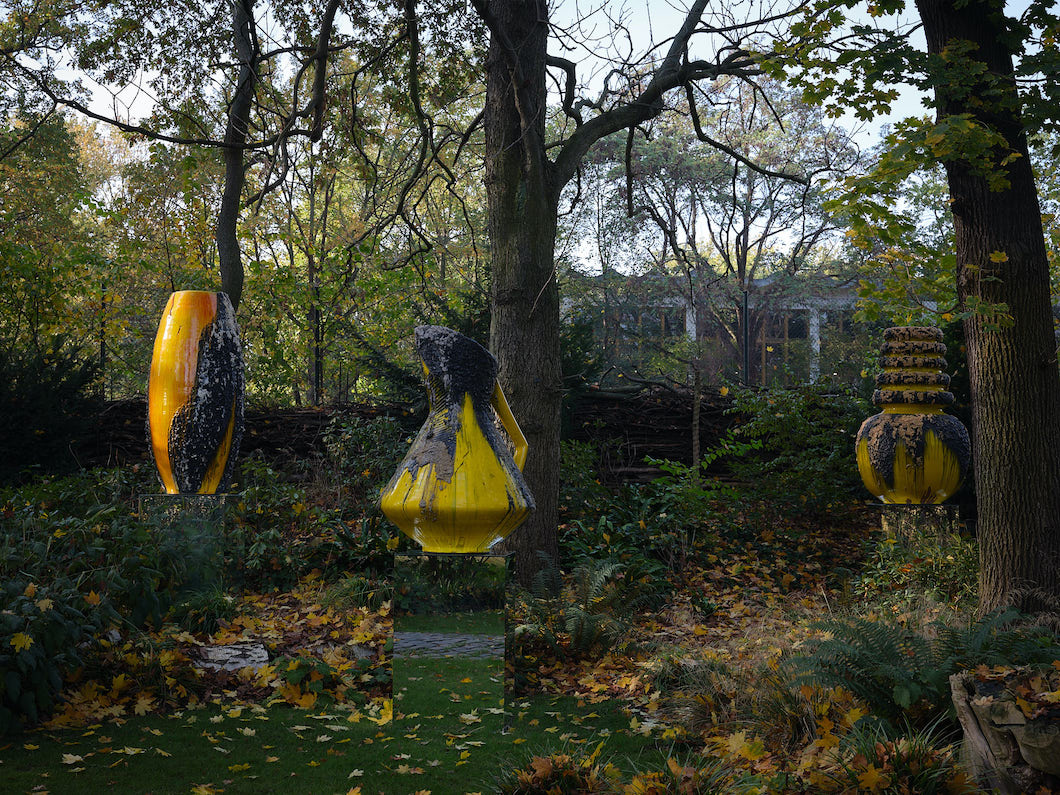 The ceramic works are part of the artist's return to a more personal approach to art. In fact, in 2014, Anselm Reyle took a break for a while after his works - which were in great demand and often realized by the assistants in his studio - became too perfect. The production had become too automated, too conceptual, and not very spontaneous.
In his recent paintings, there is a return to a more gestural, more genuine type of work, like those he made at the beginning of his career. Today his research is characterized by inharmonious colors and materials. Even the ceramics, with their haphazard and tactile quality, reflect this attitude.
"I studied painting," Reyle says, "but I struggled because I was attracted more to what I saw outside than by the idea of ​​looking inside myself". In his practice, Reyle has never been afraid of including kitsch or decoration. As in the beginning, today Reyle continues to include found objects in his works, often elements of modernist language that have fallen into disuse, to which the artist seeks to restore artistic dignity.