29/08/2020 | Silvia Anna Barrilà
Keith Haring's collection
At auction at Sotheby's in September a series of works belonging to the great American artist and sold by the Foundation for charity
Coinciding with the 30th Anniversary Year of Keith Haring's Death in 1990 from HIV/AIDS-Related Causes, the Keith Haring Foundation offers on sale at Sotheby's 140+ artworks and objects from the artist's personal collection. Full proceeds from the auction, which will be online from September 24 to October 1, will benefit The Lesbian, Gay, Bisexual & Transgender Community Center of New York – an organization that celebrates diversity and advocates for justice and opportunity for the queer community of New York.
During his 10+ years living and working in downtown Manhattan, Haring was engaged in the queer / downtown art and activism scene. He executed one of his final large-scale murals, Once Upon a Time, in the second-floor men's bathroom at The Center in May 1989 for The Center Show – a celebration of the 20th anniversary of the Stonewall Riots that featured works by LGBTQ artists commissioned by The Center. That mural stands to this day.
All of the works - with estimates starting at 100 $ - will appear at auction for the first time, together revealing never-before-told stories about Haring's community and bringing to life the celebrated art scene of the 1970s and 1980s New York. They were gifted to, purchased by and traded with Haring from iconic friends and artists including Andy Warhol, Jean-Michel Basquiat, and Kenny Scharf.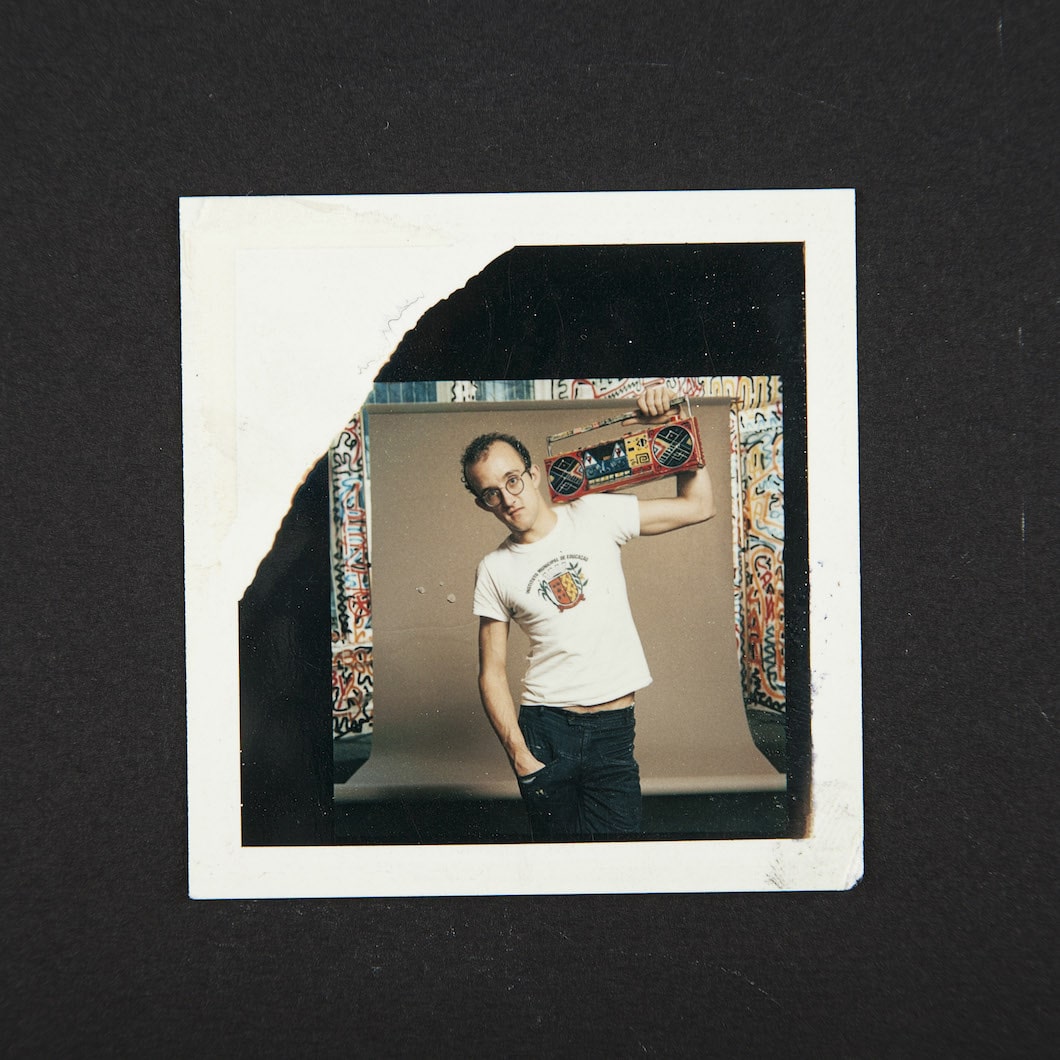 The collection is remarkably autobiographical. We see the progression of Keith's life captured in these works, from those of his childhood friend Kermit Oswald to those by his peers at the School of Visual Arts like John Sex and Kenny Scharf, to fellow Jean-Michel Basquiat, to graffiti writers Futura 2000 and Lee Quiñones, to his heroes Andy Warhol, Pierre Alechinsky and William Burroughs, who he collaborated with during his meteoric rise to fame. "Together they illuminate a culturally fertile era in which artists and activists worked closely together to create a world that was more inclusive than the one they were born into" said Harrison Tenzer, Head of Sotheby's Contemporary Art Online Sales in New York.
Gil Vazquez, Acting Director of the Keith Haring Foundation, said: "It feels as if Keith himself rallied his friends to make art for this specific purpose. It is rare that we as a foundation are able to address so many of the concerns that our founder deeply cared about in a single gift. The Center embodies so much of what Keith was about: community, empowerment, and the support of our future, the youth. We feel confident that this gift during this time for this purpose is the right thing."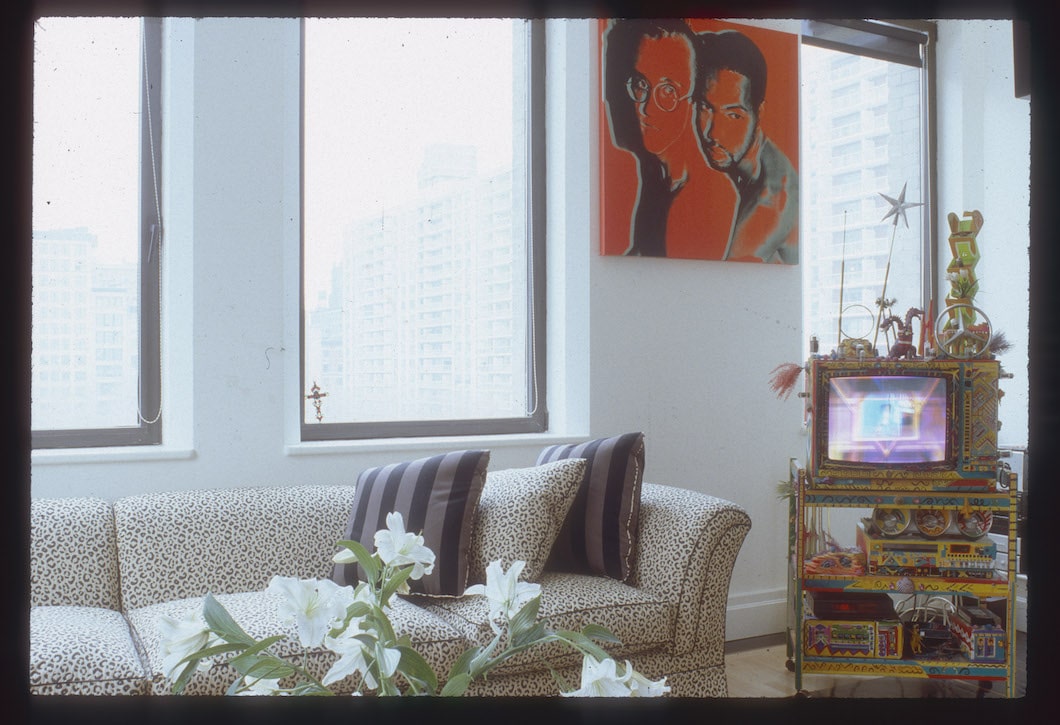 Haring was greatly influenced by Andy Warhol, who was both a friend and artistic collaborator. In 1989 he told Rolling Stone: "Before I knew [Warhol], he had been an image to me. He was totally unapproachable. I met him finally through Christopher Makos, who brought me to the Factory. At first Andy was very distant. It was difficult for him to be comfortable with people if he didn't know them. Then he came to another exhibition at the Fun Gallery, which was soon after the show at Shafrazi. He was more friendly. We started talking, going out. We traded a lot of works at that time."
The auction includes a number of such works, including an Untitled portrait of Haring with Juan DuBose – a DJ as well as Haring's partner and lover, who passed away due to HIV/AIDS in 1988 (estimate $200/250,000). Haring and DuBose had a passionate on-and-off relationship for five years that was predominantly driven by physical attraction.
The sale features a significant group of works by artists associated with Club 57 – the night club located in a church basement in New York's East Village that quickly became one of the most influential centers of the city's countercultural movement when it opened its doors in 1978. Works by Jean-Michel Basquiat (Basquiat, 'Untitled', estimate $100/150,000), Tseng Kwong Chi, Stefano Castronovo, Samantha McEwen, Kermit Oswald, Kenny Scharf, Bruno Schmidt and John Sex bear witness to a definitive downtown scene fueled by low rents, opposition to the Reagan administration, and the desire to experiment with new modes of art, performance, fashion, music, and exhibition.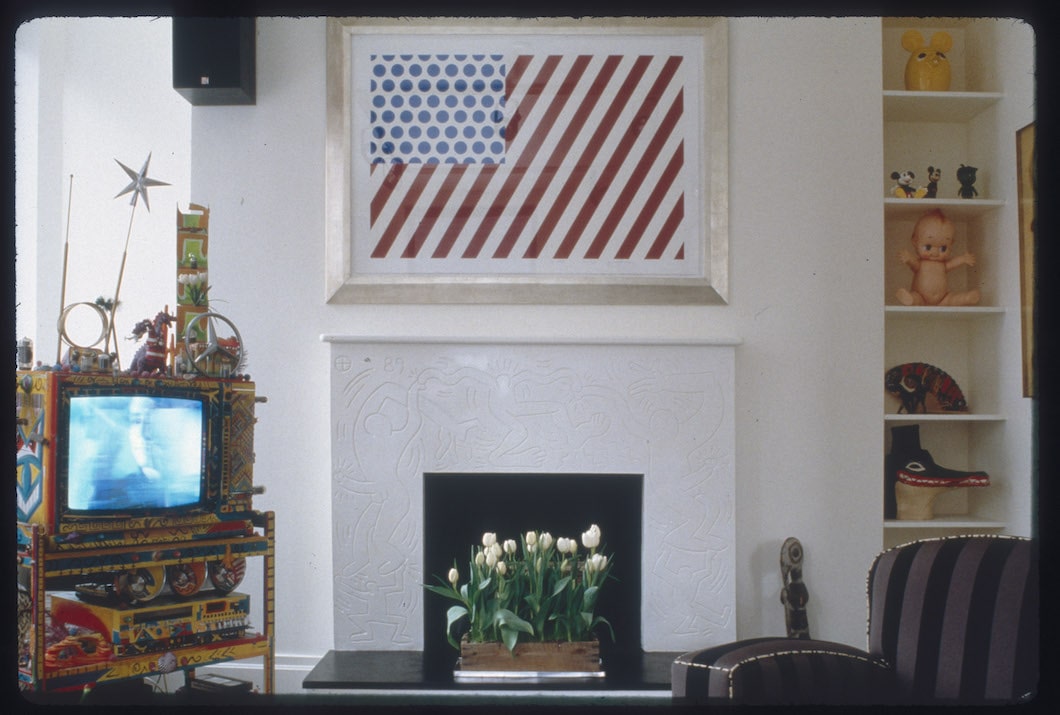 Kenny Scharf was particularly close with Haring – having become fast friends at the School of the Visual Arts, the two were roommates and collaborated often. The sale features works on paper by the artist, highlighted by his watercolor on paper in hand-painted frame Untitled (pictured right, estimate $18/25,000), as well as a number of hand-painted objects.
The street art scene in which Haring worked in the 1970s and 80s is well represented, including pieces by John "Crash" Matos, Lady Pink, Lee Quiñones, Rammellzee and Basquiat, whose work he greatly admired. In his essay "Remembering Basquiat" published in Vogue, Haring wrote: "His work had a kind of power which was unmistakably 'real'. The intensity and directness of his vision was intimidating. Jean-Michel was maybe a little too real for us. He was uncompromising, disobedient, and rude if the situation required it. Not malicious, but honest."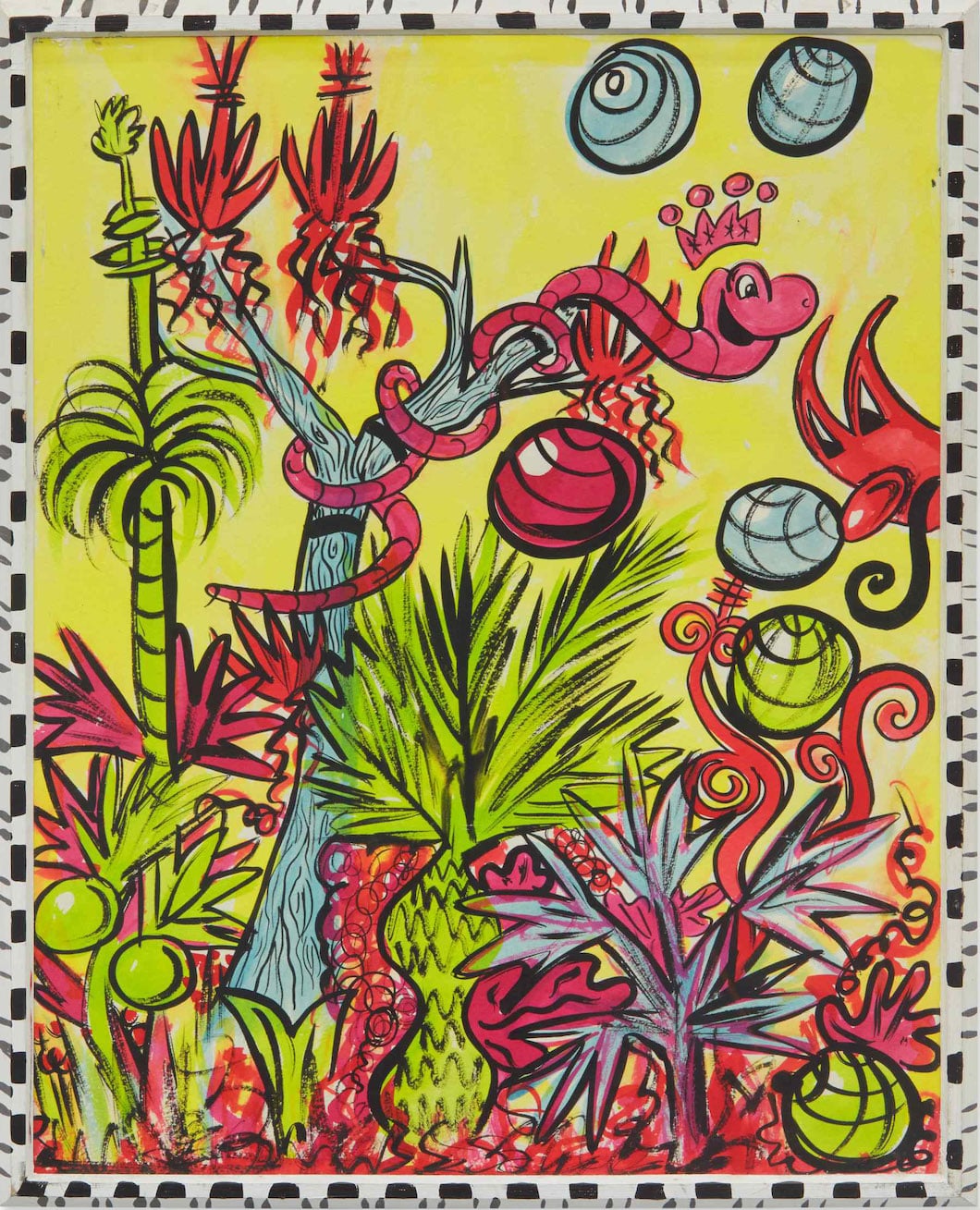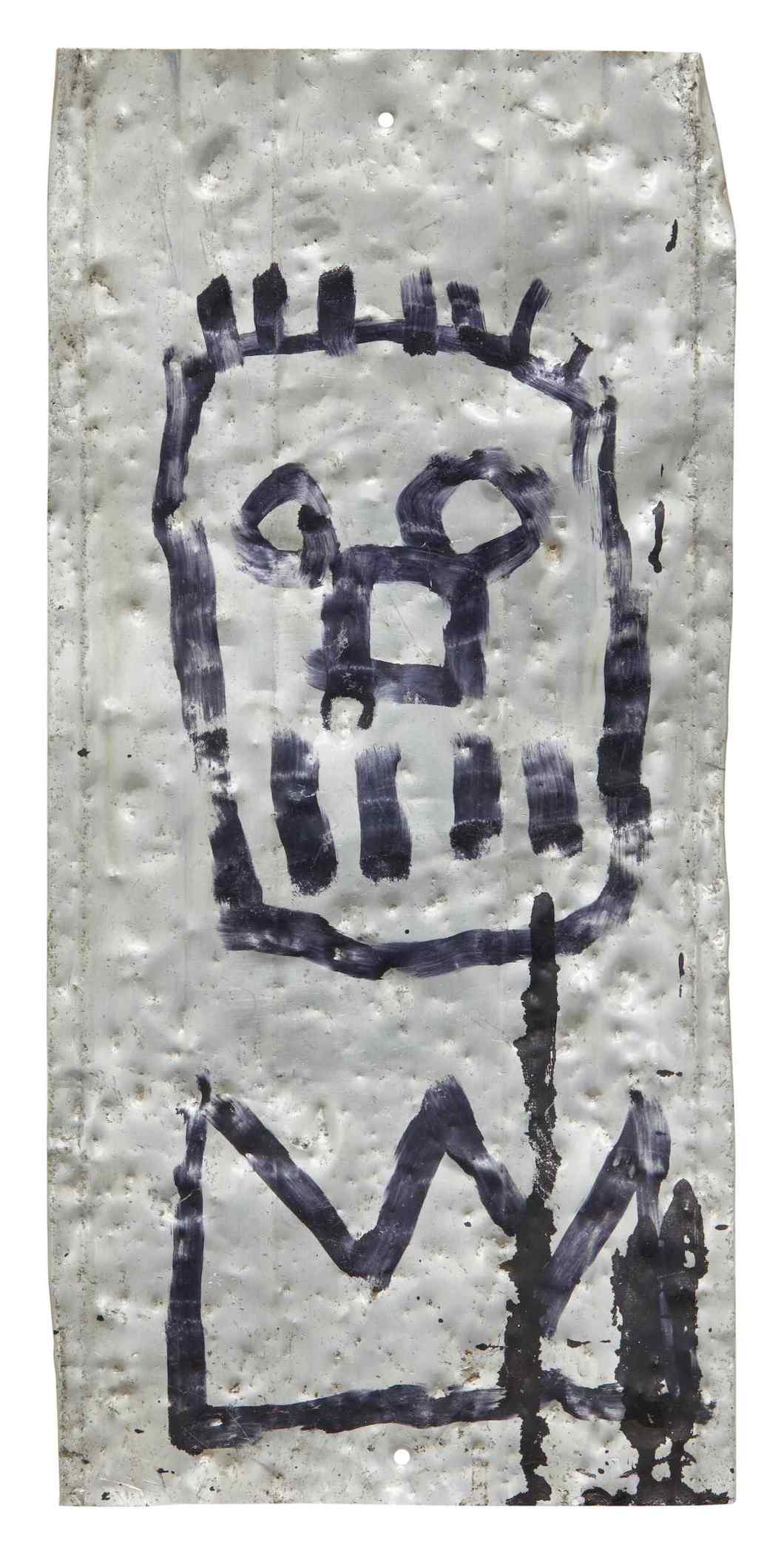 Another close friend of the artist was George Condo, who often worked from Haring's East Village studio. The sale includes an excellent grouping of early drawings and paintings done by the artist in the 1980s, including an Untitled work on paper featuring the inscription: For Keith in Paris, so it is once before a bum I am... (estimate $12/18,000).
Haring also owned a number of works by established artists whom he greatly admired, including Pierre Alechinsky, Jean Cocteau, Alberto Giacometti, Roy Lichtenstein, and Pablo Picasso. The sale includes two Lichtenstein prints, including Forms in Space from 1985 which took pride of place above the fireplace in his home (pictured right, estimate $50/70,000). Lichtenstein attended Keith's first major exhibition in New York, as did Robert Rauschenberg and Sol Le Witt.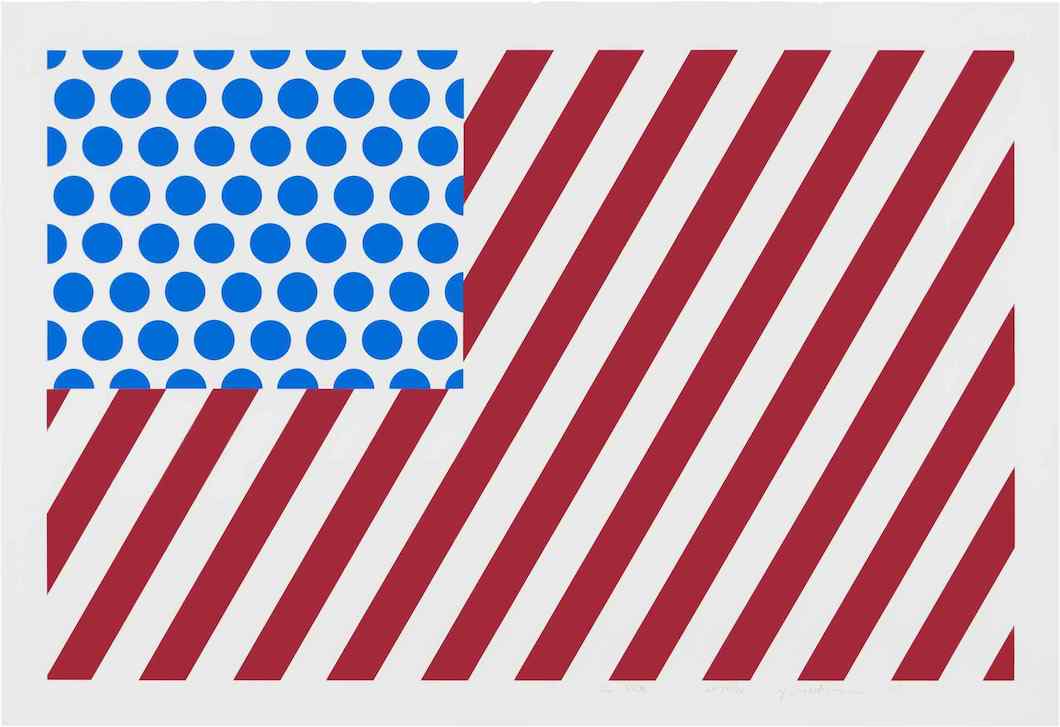 Fascinated by cartoons from an early age, Keith Haring was best known for striking graffiti-inspired drawings that took him from New York City's streets and clubs to museums and public spaces around the world. While attending the School of Visual Arts in New York in 1978, Haring discovered a thriving art community of fellow emerging artists such as Kenny Scharf, Jean-Michel Basquiat and Tseng Kwong Chi. Haring created a singular graphic style based on the primacy of the line, peopling his compositions with such signature images as dancing figures, "radiant babies," barking dogs and flying saucers, and infusing them with uncommon energy.
Between 1980 and 1989, Keith Haring achieved international recognition, participating in numerous group and solo shows and producing more than 50 public artworks from New York to Paris. By expressing universal concepts of birth, death, love, sex and war, Haring created a lasting imagery that has been embraced around the world. Haring's works can be found in the collections of many museums including the Museum of Modern Art, New York, the Art Institute of Chicago, the Albertina, in Vienna, and the Los Angeles County Museum of Art, and many more.
Shortly before his death in 1990, Haring established the Keith Haring Foundation. The mission of the Foundation continues to be threefold: the support of organizations committed to enriching the lives of children, promoting care and education surrounding issues of HIV/AIDS, and furthering the legacy of his artwork.